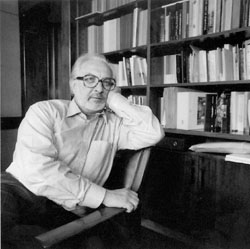 was born in 1934 in Lisbon a studied law. He works as a literary critic and translater from French and Spanish, as well as an adminitrator of the Gulbenkian Foundation. His poetry collections include Poem for Every Day, 1956, Blood, Water and Wine, 1958, Daniel in the Lions' Den, 1970, Written from Memory, 1973, Forty-two Sonnets, 1973, Horatius and Curiatius, 1981, and Delphi, Opus 12, 1987.

Narodil se roku 1934 v Lisabonu. Po studiu práv řídil několik časopisů, je administrátorem Gulbenkianovy nadace v Lisabonu. Působí také jako literární kritik a významný překladatel, zvláště z francouzštiny a španělštiny. V roce 1996 přednášel na filosofické fakultě University Karlovy. Hlavní básnické sbírky: Báseň pro každý den, 1956, Krev, voda a víno, 1958, Daniel v jámě lvové, 1970, Psáno zpaměti, 1973, Čtyřicet dva sonetů, 1973, Horatius a Curiatius, 1981, a Delfy, Opus 12, 1987.

What Arduous Long-distance
What arduous long-distance
course do you prepare for me
inside my skin
where you run and burn.
What seventh instrument
do you blow in my blood
so sublimely I know only
that you want me to walk.
What worm in the wood
of the bones I'll become
announces to me the journey
I make in your name.
What leaf of green
like a leaf of zinc
awakens and moves me
where you are tree and key.